Practical ideas.
How many hours have we spent looking around the web to find new brilliant ideas to help Enora develop her mobility? No doubt, too many. That's the reason why we wanted to gather here, in this page, the few "tips and tricks" we thought about. So this can help others!
In no particular order, you will find:
Folding mat
Il se plie et se déplie à volonté. Parfait pour faire évoluer l'enfant à quatre pattes mais aussi pour faire un petit banc. En plus, son prix est doux (35€) que demander de plus ?
You can find it in Ikea stores. It's a purchase you won't regret!
Rotating car seat / booster seat
It seems obvious once we thought about it but this rotating car seat will improve your day to day life. Even more when your child starts to grow up. We found one brand (Migo®) which includes a rotating booster seats.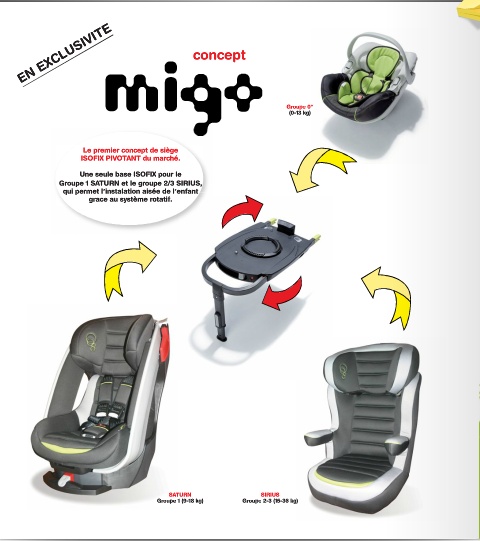 Portable canvas "high chairs"
It is not so easy to sit our little ones up because they are far from having enough strength in their back to sit up on their own!
For its pratical side, we have opted for the « Totseat® » (pictured on the left). However, you could choose the « Gotoseat® » (pictured on the right) for the little ones who can not hold their torso by themselves.
The « Totseat® » does not take a lot of space and can easily fit in a handbag (handy when you go to the restaurant for example).
The « Gotoseat® » has a rigid frame but you can install it nearly everywhere! (see this very nice article : 5 incredibles things one can do with the Firefly GoTo Seat ).
Bumbo seat
Enora T. can't sit on the floor by herself yet. She has a moulded shell seat on castors and fitted with a little table, but the whole thing is quite bulky. This Bumbo seat is quite small so we can easily bring it with us and it allows Enora to play at floor level with her brothers!
If you are buying such a seat, you might as well choose one which can also be strapped on a chair! For example, the one from the brand Ingenuity® for 46€ or the Bumbo multiseat®.
Feet strapped on a tricycle !
For sure cycling is good training. But what can you do when your little one can't keep his/her feet on the pedals? We chose the simple and effective solution of attaching the feet to the pedals. This allowed Enora to start using a tricycle from the age of 18 months old. After each session, her legs are much more supple.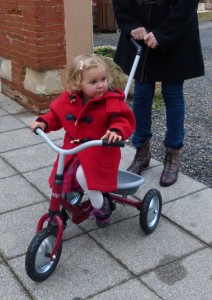 Here 's a little advice on the choice of the tricycle: your choice should not go to a tricycle with the pedals placed on the front wheel of the tricycle because it is more difficult for the child to pedal and it does not encourage the right movement.
Where can you find strong scratch bands? We used ones used to gather computer cables together, but there are other types. Visit your DIY shop or browse the internet, entering the following keywords: "scratch" and "cable" or "straps".
How to adapt a bicycle with stabilizers!
Enora A. is growing up. She does not want to use the tricycle anymore, but wants to use a real bicycle with stabilizing wheels. We have adapted her bicycle: we added a handle for pushing, we blocked the free-wheeling mechanism (using metal glue on the cog-wheels) and added leg braces in order to stop Enora's knees from turning in while she pedals.
The leg braces are from the Vermeiren brand and cost €180 for the pair. You will med to measure the length of the calves of the child in order to make sure that the size of the braces is suitable. There is little chance that the braces would suit a child smaller than 99 cm tall.
The Scooot
This just came out, it's been designed especially for the littles with motricity problem, and for once the design is there! The Scooot has 3 modular functions. You can find a demonstration video here.
Your little ones will be able to transform themselves in small explorators!
This video shows Enora T. at 28 months old trying the Scooot for the first time. It's really intuitive and parents are in general surprised at how easily their children adapt.

Various uses for a posterior walking frame
FIt turns out that we use the walking frame as much for static use as for moving. This allows us to leave Enora A. standing safely on her own. This is especially the case because the walker has a flip-up seat to sit down.
Here are some pictures to illustrate various uses for the posterior walker: at the wash-hand basin, the sandpit, or even on the treadmill!
Home made parallel bars
To allow Enora to regain confidence in her movements, we built small parallel bars for her. She is so proud to be able to move with confidence!
To build small parallel bars at low cost, you just need to buy:
Electric fence poles (from your DIY shop or garden center) which you can cut to the appropriate height, depending on the size of your child
Plastic drainpipes (30 to 40 mm in diameter) in which you can cut holes on one side only (the poles must not go through the pipes) at various intervals in order to slot onto the poles
Soft grip handles
To help Enora work on her balance, we used small soft grip handles made with corks and a string. The longer the string, the more challenging it is!
Mirrors and oilcloth
Enora T. had to learn how to turn around and also how to crawl.
To make things more interesting for her, we installed mirrors on the walls of her play area.
To help her move more easily, we covered the floor carpets with an oilcloth to make them more slippery. Even with this, she loves the floor tiles and rolls right up under the curtains!
Shopping trolley-walker
Enora refuses to use her walker, point blank. She is still very young to understand the advantages the walker presents. So, we bought her a shopping trolley and suddenly, everything became far more interesting!
Be careful to buy an extremely stable shopping trolley and not one made of plastic! The Melissa & Doug "Shopping trolley" is sold on Amazon and costs €54.
Sling shoulder carrier
Imagine yourself carrying a 10 kg little girl in your arm and trying to lock the door in the morning?! Nightmare…
PFor the children weighing less than 12 kg, this net (Tonga®) is a helpful and compact gadget! It fits in a handbag or in a pocket. Easy to put on, you can carry a 2 years old little girl and mind you back. Clearly, this is not suitable for long distances but it is very convenient to get your bread at the bakery for example!
For children weighing more than 12 kg, it is advisable to find something covering the shoulder a bit more, otherwise you will get back pains. Here are two brands we find especially interesting: Hotsling® and Sling®.
Arnica massage therapy
Arnica is well known for his relaxing properties. There is an oil massage made with essential oils (Weleda®) but essential oils are not advised to use on children and even less on people with a history of epilepsy or seizures.
In order to be able to benefit of the arnica properties, we are mixing mother tincture of Arnica (Laboratoires Boiron®) with liniment. When we are giving Enora a massage, we can often feel small balls in her calf muscles and under her feet with our fingers. These are small balls of lactic acid, proof the muscle is contracted too much. It is a good idea to do long massages in order to restore the drainage.
Inflatable neck ring
Water is an element in which our little ones feel free at last. To encourage their motricity in total safety, there are inflatable neck rings. Thank to these neck rings, it is possible to let our little ones move at their ease. It is such a pleasure!
In Japan, these rings are used in maternity hospital for newborn babies, but the rings are available in various sizes!
Here, two examples here and here.
Bath tub
It is not so easy to give a bath to a little one who cannot sit up or is not stable enough in a sitting up position.
You can simply put your child lying on their back with a few centimeters of water in a classic bath tub to let your child move his/her arms and legs under your watch. That's what Enora T. used to do.
Alternatively, you could use this moulded bath tub (OK Baby). It has the advantage of having two shapes: a reclining position on one side and a seat on the other side. Your child is then comfortably and safely seated. Enora A. used it until she was three years old!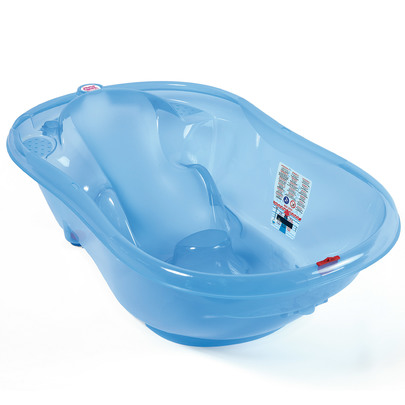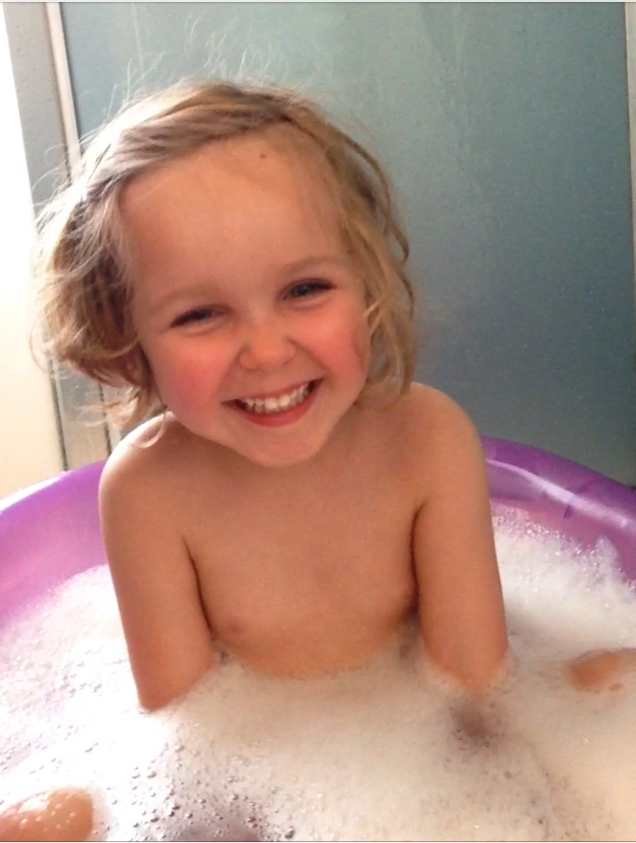 Rain boots for everyone !
We would be so happy to see our kids enjoying putting their feet in puddles!
However, wellies are a guaranteed nightmare to take even a few steps. So here is a brilliant idea: boots which fit over the shoes (Butlerboot)!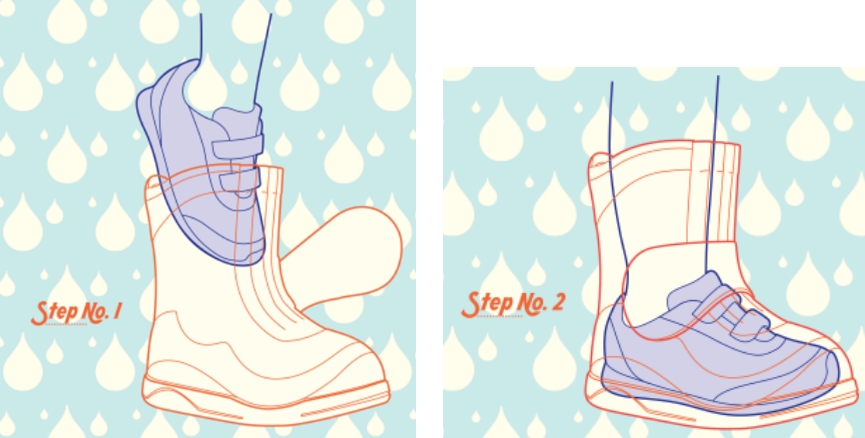 And also…
You can find here plenty of other ideas on these pages :