Enorev' also supports… professionals!
The best way to sustain our action is to support professionals in their training project when it is in line with the values of EnoRev'..
Thus, we have helped financially:
Here are their portraits!
Océane Javaux, physiotherapist in Toulouse (France).
I am a physiotherapist who graduated from the IFMK in Toulouse in 2011.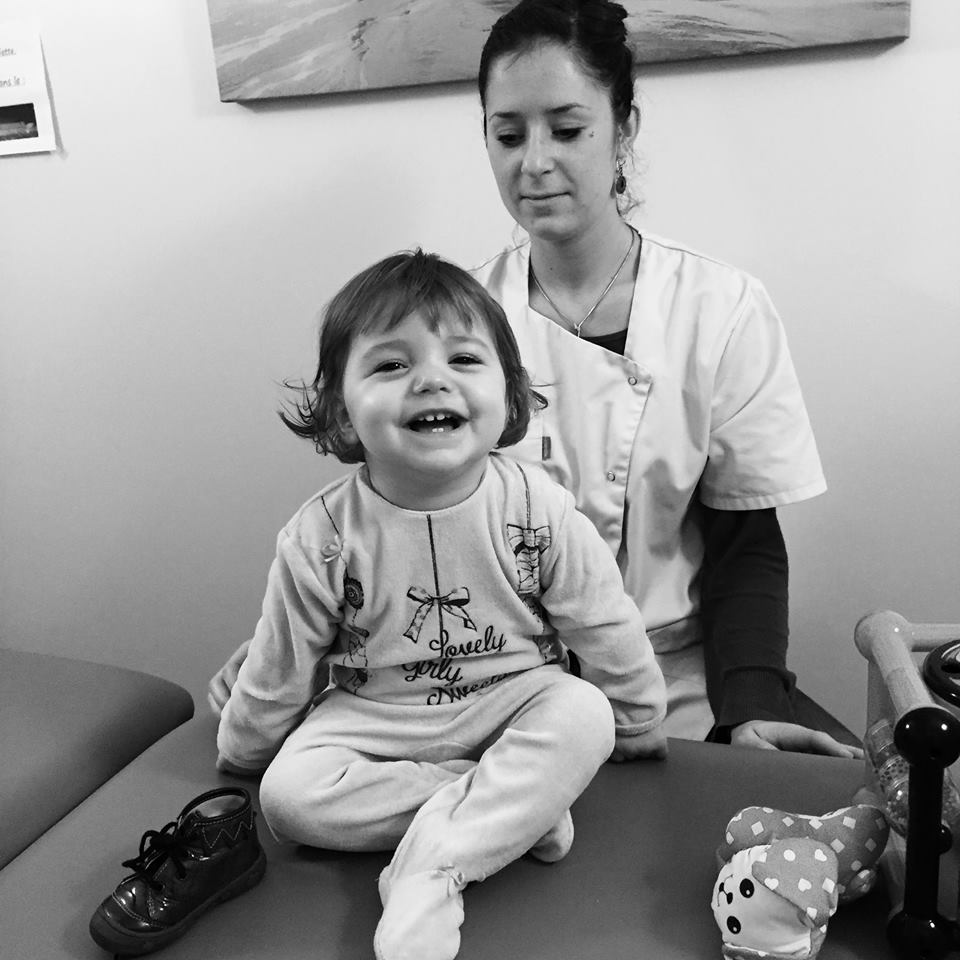 I always wanted to specialise in Paediatrics, but typical Teaching methods did not convince me.
In August 2013, I met Esther Fink through Enora A. during a Medek session that she was performing in Toulouse thanks to the association "Avance avec Hermance". I immediately agreed with her therapeutic approach and work method.
Two months later, I took a plane to Toronto to train in the Medek method by her side. I went back to get to level 2 the following year.
I now practice Medek exclusively in Saint Orens de Gammeville, in the Southern part of Toulouse within a pediatric physiotherapy clinic with two colleagues, who practice the Bobath and Le Métayer methods amongst other methods.
I would really like to see more professionals implement the Medek method in France, in order to develop it and get it accepted more. The reason is so that all children can benefit from it, in addition to other rehabilitation techniques. I give great importance to the complementary aspect of various methods, each technique brings something, and it must be tested before judging its effectiveness. Thus, in my view, combining all these methods can provide children with an effective and sustainable rehabilitation.
Regarding the Medek method as well as for all the other methods, the child must be taken care of as early as possible for maximum efficiency.
must be taken care of as early as possible for maximum efficiency. Here is a picture of myself with Enora T. who I implement Medek with. We have come a long way together and it is not over yet!
Adeline Avril, occupational therapist in Lyon (France)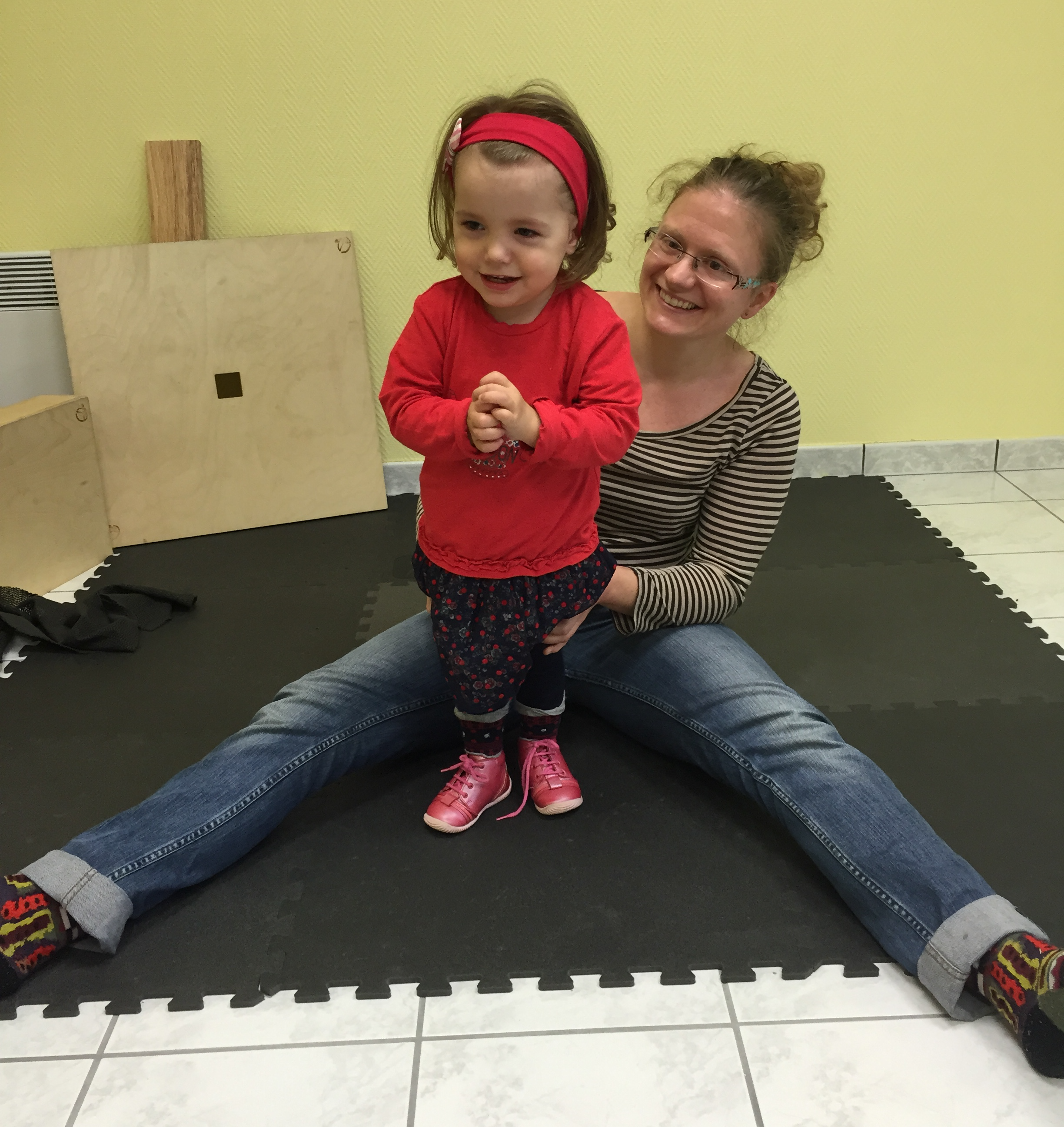 I am an occupational therapist who graduated in June 200. From 2005 until 2009 I worked in the Pediatric Department of the Garches hospital, and from 2009 until 2015 I worked with children and adolescents in the Institute of Motor Skill Education (IEM) near Rennes.
I was very fortunate to get trained in different approaches and particularly in neuro-sensory integration. These additional training sessions of further education as well as my desire to follow international scientific research, convinced me of the need for sensory-motor rehabilitation and daily stimulation in connection with brain plasticity.
My years of experience with families has also convinced me of the need to go well over and above what is currently being done and bring about parental guidance and training for parents, so they can respond to their child's needs for stimulation.
Since early 2015 I have taken the opportunity to attend CME-Medek sessions in Britanny to exchange ideas and knowledge with Elsa Thévenon and Océane Javaux about their techniques and I thank them for sharing their experience with me.
At the end of August 2015, I decided to seize the opportunity to get trained in the CME-Medek method with Alexis CUEVAS, instructor of this method, as he was coming to Switzerland at the time. The cost of training was substantial and I was fortunate to get the financial support from 4 different associations: un pas pour Mathieu, EnoRev', Association Nouveaux Pas pour LUCIA and La Ronde d'Adrien. Thank you!
My professional project in connection with the CME-Medek method started in early February 2016, when I joined Elsa Thévenon's occupational therapy clinic in Lyon. Please do not hesitate to contact me if you want: email hidden; JavaScript is required.
Claire Pérol, physiotherapist in Lyon (France)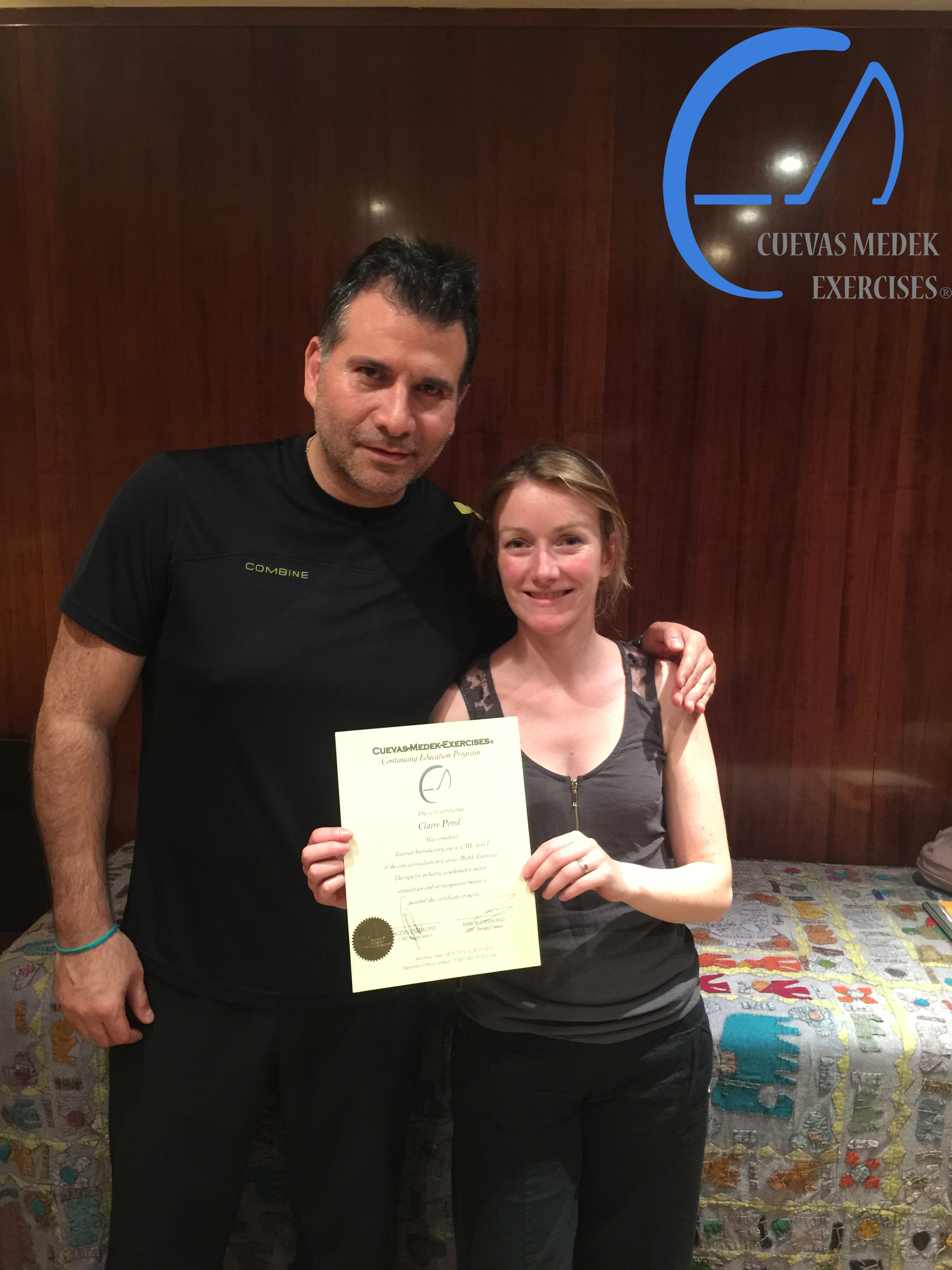 I have been a physiotherapist since 2007, when I graduated from the IFMK of the AP-HP in Paris.
I am passionate about paediatrics and neurology and have always worked with children, especially in the IEM (Institute of Motricity Education) near Paris, then near Rennes. I was also fortunate to get training and work for a few months in the Trotte-Lapins structure in Paris.
After 8 years using the Bobath and Le Métayer methods as well as other methods, I felt the need to go even further.
In 2015, with the help of Adeline Avril, I contacted Elsa Thévenon and Océane Javaux in order to get information about the CME method. I thank them for sharing their experience with me.
I wanted to get trained, and it is thanks to EnoRev', Mille et Un Sourires, Un Pas pour Mathieu, Nouveaux Pas pour Lucia, Un Pas pour Raphael and Avance avec Hermance associations that I had access to the level 1 of the CME method training provided by Alexis Cuevas in Barcelona. I want to thank all these associations for their help.
Thankfully, my colleagues and superiors in the IEM are open minded, and thanks to this, I will be able to practice the CME method with the children coming to the Institute. I hope this will in turn bring interest on the CME method amongst others.
Estelle Patrier, pediatric physiotherapist and hippotherapist in Toulouse (France)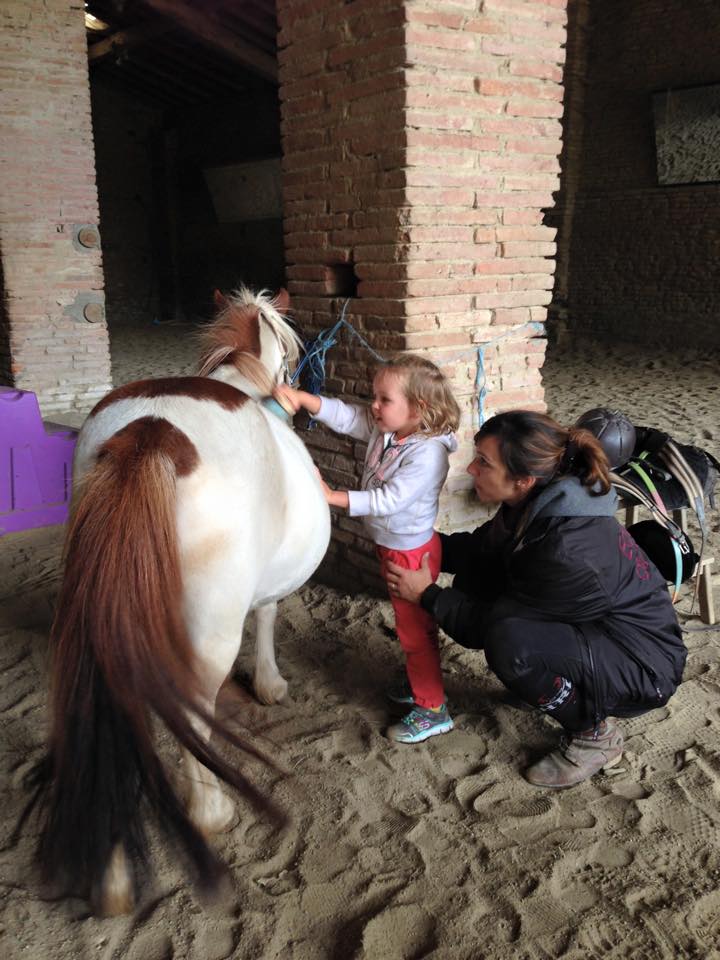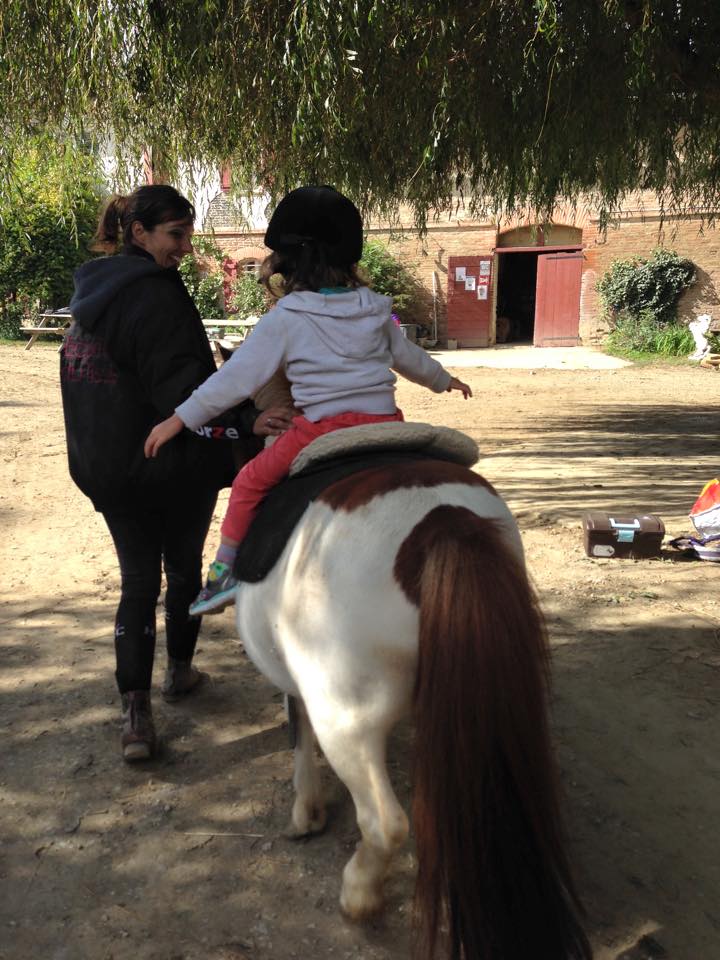 I'm physiotherapist since 2004. I studied in Belgium at the HELB Ilya Prigogine in Brussels.
Horse ridder since the age of 12, I have always been passionate about horses, their strength and their sensitivity. At the end of my studies, I discovered Hippotherapy (method of motor reeducation which uses the biomechanics of the horse to influence that of the rider) at the Pony Paradise ASBL. Attracted by pediatrics and neurology, it was a way for me to combine my affinities and a revelation: « I wanted to do THIS! »
With my associates Diane and Pierre Establet, Tissié stables were born in Montlaur at the gates of Toulouse. This place is an equestrian center open to all for a high quality of horse riding teaching in which I practice Hippotherapy sessions with kids.
My meetings with Enora A. my little patient and with Carolyne Mainville, a Canadian occupational therapist and hippotherapist, led to the creation of a unique training center in Europe.
The aim ? To train a maximum of rehabilitation professionals (physiotherapists, speech therapists, occupational therapists, psychomotricians) to this method so that as many children as possible can benefit.
Coming up soon…
Are you a professional?
Do you have a project in mind to help children (and their families) in order to develop their abilities? Do you believe in them?
Do not hesitate to contact us and we will do our best to support you.