Enora A.'s progress.
We need to update this page, please be patient…
Since September 2014: School!
Enora A. started in the small section of nursery school!
She had a Special Needs Assistant to help her move around. They get on very well!
This sweet girl was going through a growth spurt, which made her regress (spasticity in the muscles is increased and makes her stiffer). Therefore, we reduced the amount of Medek exercises to spend more time on stretching, which proved to be essential.
Here is her schedule:
Mornings in school (She is enrolled in school only in the morning for now)
Lunch & afternoons at her childminder's house
Every second evening, alternating: 1 hour of Medek exercises or 1 hour of massage & stretching
Thursdays, midday: weekly session of speech therapy
Fridays, midday: session with physiotherapist to massage her back, her shoulders and her legs
Friday evenings: hydrotherapy session.
April 2014 – August 2014
A break for a few months in Toronto to fully focus on Enora's progress.
The pace is intense but still playful.
Enora does:
2 Medek sessions per day (except on weekends)
Swimming pool (twice a week) in warm water (91°, 33°C)
20 minutes of walking daily (we hold Enora by one hand)
Tomatis method
Massages with arnica after bath time
Working on fine motor skills with an Ipad tablet
Sociability: 2 mornings per week in an English school! (Enora loves it)
Progress is here! The timeline below summarizes the main milestones.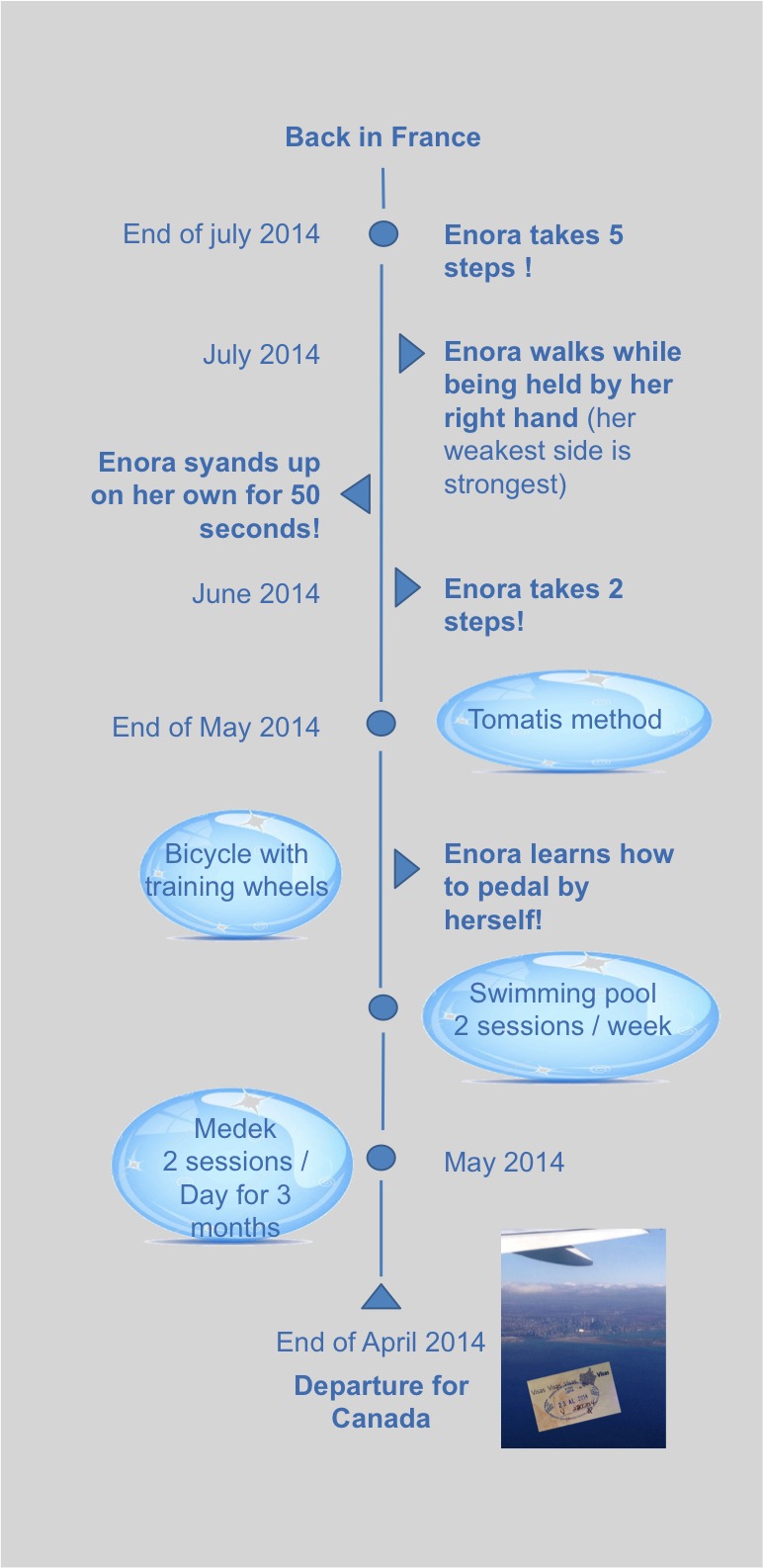 July 2013 – April 2014
It took us some time to find our pace and above all to find the right points of contact, but our schedule is now running well!
Enora does:
a 1 hour session of Medek method daily
a weekly session of Bobath physiotherapy essentially focusses on mobilizations, awareness of the support points and weight transfers
a weekly session of physiotherapy essentially focused on massages of the back and shoulders (to a lesser extent, the upper limbs are also affected by spasticity)
a weekly session of horse riding therapy
massages with arnica after bath time
one weekly session of speech therapy because we noticed a delay in the development of Enora's language
Apart from this daily routine, the following timeline shows the path we took to discover & implement all these alternative approaches.